Church Building & Liability, plus All Church Related Insurance in the State of Illinois
Our Mission is Protecting your Ministry
Since 1972, Kulin-Sohn Insurance Agency has provided the protection and security that enables churches to grow, thrive and fulfill their calling. Our primary focus has earned us respect for our knowledge of insurance specifically designed with churches in mind. By concentrating our practice to church insurance and church related ministries, Kulin-Sohn Insurance Agency has an unparalleled understanding of the products we offer, as well as the ministries that need them.
More Than a Job
Dedication to our profession has made Kulin-Sohn one of Illinois' most trusted names in church and church related ministry insurance. Many companies offer church insurance in addition to a multitude of other commercial insurance lines.
Kulin-Sohn have restricted ourselves to serving the needs of churches and individuals for one simple reason: we care! This means our focus isn't on financial commissions, but rather on helping you fulfill the great commission.
Our Family Looks After Yours
As a family owned and operated insurance agency, we understand the importance of earning trust by developing relationships. We know this can take time. At Kulin-Sohn, everyone on staff is a licensed agent. That means each of our staff members has the training and knowledge to answer your questions. We have over 100 collective years of experience in insurance and insurance-related fields. While church insurance is our specialty, we also provide outstanding Personal, Auto, Homeowners, Life and Health Insurance.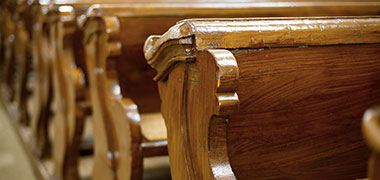 ​Equally important is our willingness to take whatever time is necessary to help you secure the coverage you need to protect your church, your family and your peace of mind. Kulin-Sohn Insurance Agency: Our focus is protecting your ministry.
.